#AcrossBorders and origins: Can we get smarter at preventing people from fleeing?
By Flavie Halais flaviehalais29 February 2016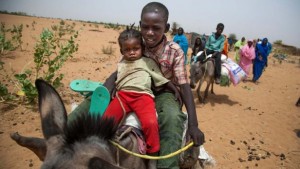 A family on their donkeys arrive at their new settlement in Zam Zam camp for internally displaced people in North Darfur. The nature of displacement crises has evolved. How can the international community do a better job at building resilience in affected communities so that fleeing is no longer their only option? Photo by: Albert Gonzalez Farran / UNAMID / CC BY-NC-ND
More than 60 million people around the world have fled their homes due to conflict and disasters, of which about 40 million have been internally displaced. With new conflicts having erupted in Africa, Asia, the Middle East and Europe in recent years, this number is likely to rise.
Perhaps more than ever before, the international community needs adequate policies and tools to address these crises, beginning with prevention mechanisms. How can we do a better job at building the resilience of affected communities so that fleeing ceases to be their only option?
Understanding displacement
Preventing forced migration starts with understanding the nature of conflicts and the reasons that lead people to flee. Too often we have failed to grasp the complexity of crises and the various factors that affect people's safety.
Take the violence caused by militant group Boko Haram in northeast Nigeria, which has led to the internal displacement of over 2.2 million people and has led hundreds of thousands of others to seek refuge in neighboring countries. This ongoing crisis cannot be understood without taking into account other factors such as state fragility, lack of economic opportunity in the region, or environmental degradation.
The blurred lines between refugee crises and irregular migration — as can be seen in current migration flows to Europe — also reveal that economic and political factors can play an inextricable role in people's decision to leave.
Understanding the interplay between these different factors requires using more efficient analytical frameworks. The Internal Displacement Monitoring Center suggests this begins with a very simple step — agreeing on a common terminology to describe and analyze the causes of displacement.
On one hand, we have the drivers of displacement, or the underlying causes, such as poverty, corruption, environmental degradation, joblessness, tensions over natural resources and food insecurity. On the other hand, we have triggers, or events that act as a tipping point and force people to flee — including armed conflict, floods or famine. Not all populations flee when experiencing these events; preventing displacement therefore involves building a better understanding of what makes people more resilient and adaptable to shocks.
Displacement is political
The nature of displacement crises has evolved. By the end of 2014, 45 percent of refugees were thought to be in protracted situations — where groups of 25,000 people or more have been in exile for over five years — in which they remain for an average of 25 years. Internally displaced persons spend 17 years away from home on average. The length of displacement, coupled with a declining quality of asylum (including reduced economic opportunities, reduced access to services, lack of access to education opportunities for displaced children and marginalization in countries of first asylum) is increasingly leading displaced populations to leave a second time, exposing them to life-threatening travel conditions and abuse. This phenomenon has been referred to as multiple displacement, onward movement and secondary movement.
Environmental disasters have also emerged as a growing cause of displacement, leading at times to confusion as to what sort of action is needed to limit their devastating consequences. Such disasters do not happen in a vacuum, and do not affect people equally.
Marginalized populations such as the poor, women, children and minorities are disproportionately impacted by natural hazards, often because they have been placed in situations of vulnerability. Many people around the world live in areas prone to floods, landslides or volcanic eruptions because of their inability to access safe and adequate housing.
Disaster-induced displacement cannot be addressed without looking at the structural causes of marginalization and vulnerability, from gender discrimination to ethnic tension, corruption and economic inequality. Poverty, tensions surrounding land use and state fragility exacerbated the consequences of the 2010 earthquake in Haiti, leading hundreds of people to leave their homes.
Bridging the humanitarian-development divide
Addressing these structural and underlying causes requires a better-coordinated response to disasters and conflicts between the humanitarian and development sectors, whether it seeks to prevent displacement or onward movement. In this regard, recent agreements provided welcome yet incomplete frameworks to address the complexity of displacement crises. The Sendai Framework for Disaster Risk Reduction, the Sustainable Development Goals and the Paris climate change agreement, in spite of having achieved breakthroughs in their respective sectors, have been criticized for their lack of coherence and clarity, and their lack of emphasis on displacement.
Both sectors need to acknowledge that resilience-building and humanitarian response must work hand-in-hand.
"The traditional humanitarian way of responding to displacement is not really working," Fran Charles, advocacy director for Syria response at World Vision International, told Devex. "In the Syria crisis what we see is you need to do long-term resilience programming simultaneously with humanitarian intervention."
This, said Charles, implies developing livelihood strategies for Syrians living in Lebanon, Turkey and Jordan while addressing their most immediate needs.
Considering the overwhelming extent of human migration, it's hard to keep track of the definitions prescribed for different subgroups — such as migrant, refugee and asylum seeker. Devex breaks down what each term means, as well as why it matters to distinguish among them.
Building evidence
Because livelihood strategies are closely associated with the ability of refugees to work in host countries, World Vision sought to make the case for local governments and multilateral organizations such as the World Bank and the International Monetary Fund to change their policies in that regard, Charles told Devex.
World Vision focused on conducting research demonstrating the economic benefit of allowing refugees to work, the result of which will be released later this month. "You have to use that evidence in your advocacy with those people who have influence with the government," she said.
Gathering evidence and improving data collection during all phases of displacement and on all segments of affected populations also helps build a better understanding of displacement crises. UNHCR's Population Movement Tracking Initiative enabled researchers to draw precious and sometimes surprising conclusions about patterns of displacement in and out of Somalia, notably that a key trigger of displacement during conflict lies in the anticipation of changes in the balance of power, not when these changes actually take place, at which time it may already be too late to flee.
Disaggregated data by sex, age, income level and ethnicity is crucial to understanding the dynamics of displacement in order to plan targeted interventions with vulnerable groups. As displacement becomes increasingly urban, improving data collection can help understand the patterns and needs of populations who otherwise go under the radar and are harder to reach.
Improving cross-sector collaboration
Researchers have long urged policymakers to work more closely with local civil society organizations as a way to better address the needs of vulnerable communities and counter some of the top-down decision-making that often takes place during crises.
"Local capacities are often overlooked; there needs to be much more emphasis on assisting local providers, suppliers and existing civil society structures, rather than on bringing in outsiders," said Jan Snoeks, program specialist in peace building at the United Nations Volunteers program. "And when outsiders are brought in, they should focus more on further developing the locally existing capacities rather than only on providing actual response."
Initiatives such as the International Federation of Red Cross and Red Crescent Societies' One Billion Coalition for Resilience, or the partnership between the Global Resilience Partnership and Amplify, are examples of how humanitarian and development actors can engage the participation of local communities through bottom-up innovation.
Seeking partnerships with non-traditional actors is increasingly seen as a necessity among humanitarian and development actors. World Vision's Charles told Devex that her organization has been looking at innovative ways to address the question of water resources in Jordan, which are being strained by the influx of refugees.
"We're bringing in experts in the sector who do work for profit, but are excellent at understanding how water rehabilitation and water systems can work in a middle-income country," she said.
Another area where cross-sector collaboration can be improved is how humanitarian and development actors work with various levels of local governments. With crises and displacement increasingly taking place in an urban setting, municipal governments have not been included enough in conversations surrounding humanitarian responses and resilience building.
"We often see that there are big gaps between [national] governments and the municipal level," said Jørn-Casper Øwre, a program manager at the Global CCCM Cluster. "You have a lot of cases where the municipal level is not sufficiently engaged and brought into the responses."
The United Nations Conference on Housing and Sustainable Urban Development — known as Habitat III — will take place in October in Quito, Ecuador. Together with the various meetings being held in the lead-up to the conference, it represents a key step toward addressing urban resilience and urban conflict, while improving the cooperation with municipal governments.
A new financing model
Building resilience and addressing displacement doesn't come without a cost, and humanitarian and development actors are well aware that the current funding model needs to be reassessed.
"Realistically speaking, there will never be enough funding and there will always be newly emerging needs, however much money you manage to raise," said Snoeks. "What I think we are missing a bit in terms of resilience, is an acknowledgement that a lot can actually be done without necessarily having large budgets, that people can work together as a community to make things better for themselves. Volunteering is a major asset in this regard."
Charles said there is a crucial need to reform funding appeals and address the long-term dimension of displacement crises.
"We've got to stop kidding ourselves and make appeals and response plans that address the fact that there will be humanitarian needs for the next three to five years, and that's what we should be looking at to finance at least," she said, adding that a more efficient funding strategy needs to involve a stronger investment into disaster risk reduction in order to decrease the costs of disaster relief.
Improving cross-sector collaboration and evidence building, as well as planning for a more efficient funding model are just some of the many issues that will be discussed at the upcoming World Humanitarian Summit.
What should be the priorities of the World Humanitarian Summit regarding forced displacement? Have your say by leaving a comment below.
Across Borders is a monthlong online conversation hosted by Devex and partners — World Vision, the European Commission's Humanitarian Aid and Civil Protection department, the International Organization for Migration and United Nations Volunteers — to analyze and amplify the discussion on global migration and current refugee crises through the lens of global security, development cooperation and humanitarian aid work, and more. Visit the campaign site and join the conversation on social media tagging @devex and #AcrossBorders.
About the author
Flavie portrait
Flavie Halais
flaviehalais
Flavie Halais is a freelance journalist based in Montreal who covers cities and international social issues. In 2013-2014, Flavie was an Aga Khan Foundation Canada International Fellow, reporting for Nation Media Group in Nairobi, Kenya. She's also reported from Rwanda, Brazil and Colombia.